Alan Vines Automotive Finance Department

Find the latest auto finance offers including lease and finance specials for new vehicles at Alan Vines Automotive.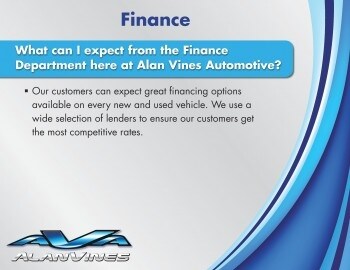 Frequently Asked Questions
:
What do I need to bring with me when I come to purchase a vehicle? 
In most cases you will only need proof of income, proof of residence, and three references.  Proof of income: you can use a bank statement or a recent check stub (within the past month).  Proof of residence can be a copy of your utility bill.  Three references can be personal or professional.

What if I have bad credit?
There is a possibility if you have bad credit that you will need ten references, a working telephone number, and a copy of your utility bill (in your name).

This process is to help you rebuild your credit.  Most of the lenders we have require about 20-30% down

.  If you've had a bankruptcy or bad credit- we can finance just about anyone to get you on the road.  So don't back down now!  Please give us a try.


How long does the finance process take?
Generally after you have decided what vehicle you want and you are done with the salesman, the finance part will only take about thirty minutes.  Usually the process with a salesman takes about thirty to forty-five minutes, so you can be in and out in about an hour!



STAFF:
Jeff Layden, F & I Manager
Charles Jackson, F & I Manager